There are currently 4,727 vessels with scrubbers in operation and on order, according to DNV, mostly in the bulk carrier segment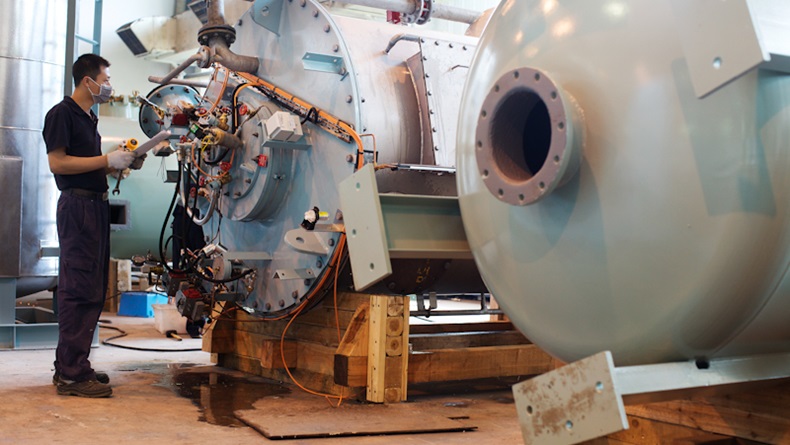 HAVING SCRUBBERS GENERATES SIGNIFICANT VALUE FOR SUPRAMAX AND ULTRAMAX OWNER EAGLE BULK.
THE highest fuel spread on record is boosting profits for those using scrubbers on their ships.
The difference in price between very low sulphur fuel oil and the high-sulphur equivalent has widened to more than $500 per tonne depending on the region.
"Currently, owners who have already invested in scrubbers are enjoying a high return on investment," Intermodal Shipbrokers said in a note.
The reason for the widening spread is based on weakening HSFO markets in Asia due to sanctions on Russia's Urals crude in Europe and the US.
At the same time, VLSFO markets are seeing tight supplies as refineries have been maximising gasoline production ahead of an anticipated increase in demand during the peak summer driving season in the US, the Greece-based brokerage wrote.
Owners will be benefiting from increased cost savings, leading to higher profits, while charterers are said to be willing to pay premiums for taking out ships on one-year time charters, due to the benefits of the lower fuel costs.
Poten & Partners said in a recent note that the widening spreads are driven by a combination of factors, including Russia's invasion of Ukraine, and the general recovery of oil demand as the world is coming out of the pandemic.
"After the outbreak of the Covid-19 pandemic, global oil demand collapsed, oil prices dropped to record lows and IMO 2020 largely became a non-issue as refiners could use surplus low sulphur products to produce VLSFO," the US-based tanker advisers said.
"Even during Covid, when tanker rates collapsed and the time-charter equivalent benefit of scrubber ship versus a non-scrubber ship was relatively small, owners continued to install scrubbers on their vessels."
It estimates 43% of very large crude carriers have had scrubbers installed, given how much fuel is consumed and their employment on long-haul routes.
"Owners with modern VLCCs that are equipped with scrubbers do much better than the benchmark rates suggest," it added.
According to classification society DNV, there are 4,727 ships with scrubbers in operation and on order. That compares with 4,550 last year, 4,334 in 2020 and 3,163 in 2019.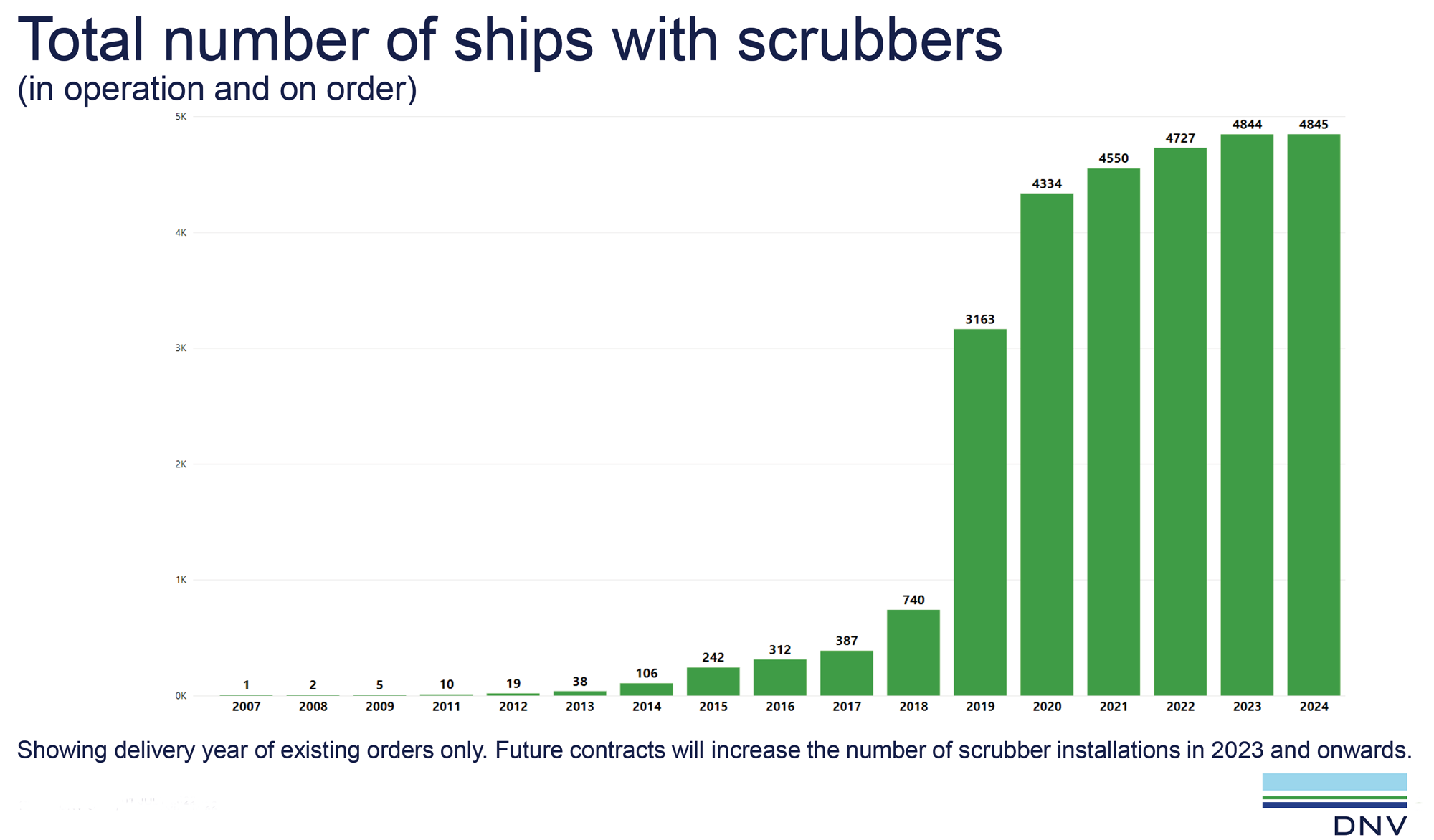 Bulk carriers are the biggest user of scrubbers at 1,650, followed by containerships at 1,121, crude oil tankers at 678 and chemical tankers at 573, its data from July 1 shows.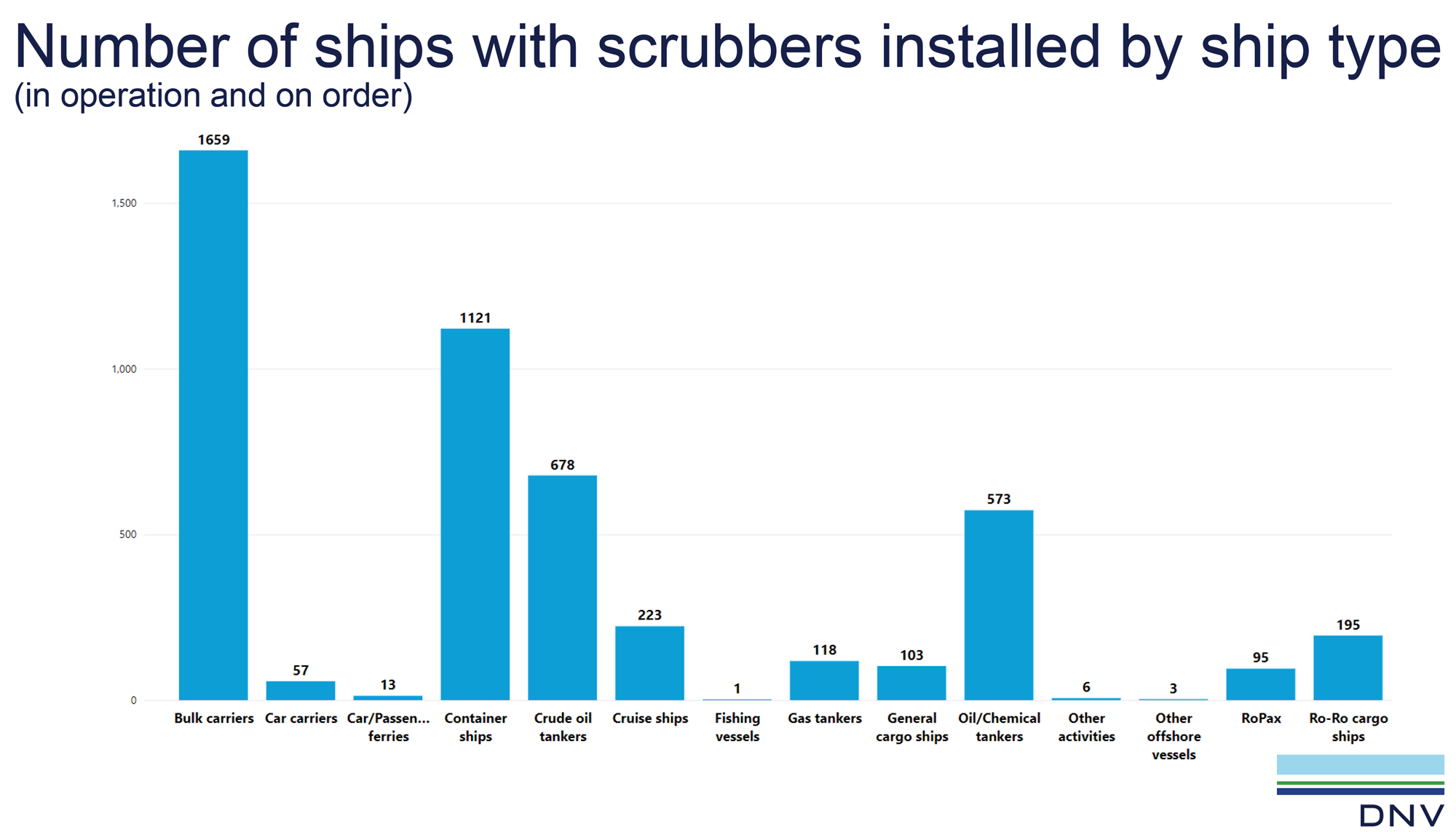 Bulker owners such as Eagle Bulk and Star Bulk have the majority of their fleets operating with the abatement technology.
Having scrubbers generates significant value for the company, according to US-based supramax and ultramax owner Eagle Bulk.
In a recent investor presentation, it illustrated how its scrubber-fitted fleet of 47 vessels being operated for 200 days while on voyage in open seas, would generate savings of $50m per year using a full-year fuel price spread of some $215 per tonne.
The current price spread is thus attracting more owners to consider installing scrubbers.
Intermodal said: "Currently, owners who will drydock their vessels soon are increasingly considering investing in pollution abatement technology, in return for the benefits from the expected savings in the bunkering costs."
But given current market conditions, the time to retrofit varying between 30 and 50 days needs to be taken into account, it said.
In the first half of this year, only 3.7% of newbuildings were scrubber-fitted versus 13.9% over the corresponding period in 2021, it added.
"Under a blurred setting regarding the direction and efficiency of alternative fuels and the current geopolitical disruptions, owners tend to adopt a medium-term approach to the evaluation of their investment towards decarbonisation, rather than a long-term one which might be overturned," according to Intermodal.
It said recent studies have shown that running HSFO with a scrubber produces much lower emissions than running on low sulphur marine gasoil, emphasising the viability of a scrubber investment.