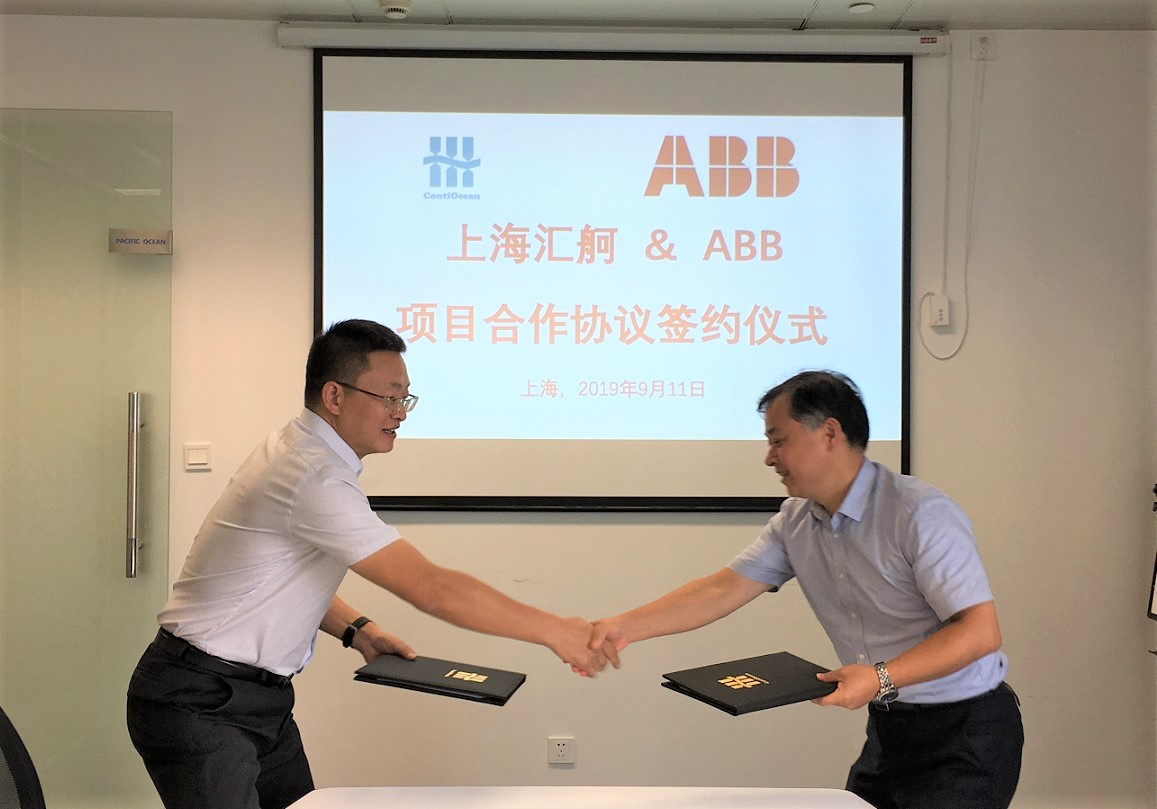 The signing ceremony for cooperation agreement in marine EGCS Digital control system between Shanghai ContiOcean Environment Tech Co., Ltd and ABB Beijing Drive Systems Co., Ltd, was held in ContiOcean Group headquarter on Sep 11th 2019. As representatives from both sides, Mr. Zhou Yang, the chairman of ContiOcean Group, and Mr. Liang Xianglun, the regional sales manager of ABB Huadong district (Drive and Control Department), signed on the cooperation agreement.
ABB is a technology leader that is driving the digital transformation of industries. With a history of innovation spanning more than 130 years, ABB has four customer-focused, globally leading businesses: Electrification, Industrial Automation, Motion, and Robotics & Discrete Automation, supported by the ABB Ability™ digital platform. After years' fast development, ABB has successfully established and expanded business in research, manufacture, marketing and engineering services in the Chinese market. ABB has an accumulated total investment of about 17 billion RMB and more than 90% of its sales revenue comes from locally-manufactured products, system and services. Up to now, China has been the second largest market in the world for ABB.
ContiOcean Group is an environmental industrial group specializing in marine environment protection equipment and clean energy area. ContiOcean's self-developed COUS/COIS/COBOS multi-stream hybrid scrubber systems have obtained certifications from multiple primary classification societies such as NK, DNV-GL, LR, ABS, BV and CCS. As the leading company in EGCS industry, ContiOcean has successfully delivered nearly 30 EGC systems with excellent stability and reliability, which helps ContiOcean earn high reputations from customers.
ContiOcean Group and ABB corporation will cooperate on the principle of "mutual benefit, complementary advantages and common development". With the supports from ABB's powerful research strength in AI control system, ContiOcean will be able to greatly improve the ability in control system and provide satisfying services to customers such as remote control, data analysis and intelligent management etc.
ContiOcean and ABB will conduct further cooperation in the future including frequency converter manufacture and AI Area etc. Both sides will keep expanding cooperation, sharing resources and providing better services to customers.
Mr. Zhang Nan, sales manager of ABB Huadong district (service & shipping industry), Ms. Fang Qian, purchasing manager of ContiOcean, Mr. Chen Rui, engineering manager of ContiOcean, and Mr. Zou, technology manager of ContiOcean, also participated in the signing ceremony.