Several solutions are being worked on; one of which proposes to thrust frozen carbon blocks into seabed sediments, while another aims to capture carbon through the exhaust and then be used to make fertiliser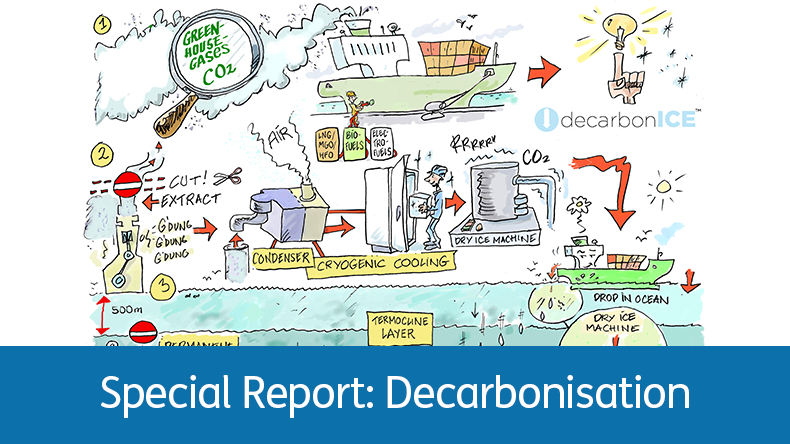 COULD carbon capture and storage be the miracle cure that shipping needs to tackle emissions?
Those developing such technologies certainly think so, at a time when zero-emission fuels have yet to fully take off.
Several solutions are being worked on which could be developed within this decade.
One such solution — the decarbonICE technology — is moving from the conceptual stage to regulatory approval. It has the potential to cut greenhouse gas emissions from shipping by about 90%.
The technology is being developed in Denmark by the Maritime Development Centre and has the backing of leading shipowners and charterers, namely NYK Line, Teekay, BW Group, Ardmore, Sovcomflot, Vale and Knutsen OAS. South Korea's Daewoo Shipbuilding and Marine Engineering is involved on the technical side.
"With global carbon emissions heading in the wrong direction, sending carbon ice blocks down to the sea floor at depths of 2,800 metres and below will allow for carbon neutrality using conventional fuels," according to project developer Jan Boyesen.
"Shipping could even become carbon negative, if combined with using biofuels or some synthetic fuels such as methanol."
When carbon is emitted into the air, a large amount is absorbed by the surface of the sea, which leads to acidification, he explained. However, when carbon is captured and made into dry ice, only 1%-2% ends up in the water.
The entire ocean floor is not suitable for the task, however, due to mountain ranges and/or marine life, said Mr Boyesen.
A geologist working with the project has mapped out the seabed and has identified abyssal plains as suitable areas where carbon descent vehicles, of about 1 tonne, can be torpedoed from the ship's stern at 28 metres per second into the soft seabed soil, where they will stay for time immemorial as CO2 hydrate.
"The speed at which it is dropped, through pure physics, ensures that the carbon block, which is minus 78 degrees Celsius, will sink 10 metres below the seabed," he said, adding that the CDVs would be launched every 10-15 minutes from the larger vessels, which emit up to 300 tonnes of CO2 every 24 hours.
Some bacterial organisms that live on the seabed could potentially be affected at the point of impact, although no formal study has yet been carried out.
Since the total area for storing shipping emissions will cover about 15,000 square kilometres per year, it is envisaged that the effect will be insignificant, given the actual extent of the sea floor, Mr Boyesen said.
The project's leaders are in talks with flag, port and coastal states to make recommendations to the International Maritime Organization for an amendment to the London Convention on Pollution of the Seas to allow the storing of CO2 in seabed sediments, as an addition to subsea storage, which has been permitted.
Due to rigorous procedures at the IMO, the proposal could take a minimum of one year up to six years to be approved, Mr Boyesen said.
In addition, specialist training would need to be carried out for handling of the ice blocks on board the vessel.
Other technology solutions
Other solutions are also being developed, which will provide some choice for owners.
Finnish scrubber manufacturer Wärtsilä recently highlighted the potential to capture carbon at the point of exhaust, much like current scrubbers remove sulphur oxides.
Its initial findings showed that carbon capture and storage on ships was "technically viable" and it will be installing a one-megawatt pilot plant in Moss, Norway, to test the theory.
"Carbon capture is exciting because it can provide significant reductions in a relatively short timeframe" said the company's director Sigurd Jenssen. "CCS is an important piece in the puzzle to bring down greenhouse gas emissions from shipping by 2050."
It could take between three to six years to develop compared with say, alternative fuels, which need a much longer time to build the necessary infrastructure.
"Carbon capture is more ready for marine applications and what we want to test is whether land-based designs can be transferred to ships, but there are operational constraints like space that need to be overcome," he said.
The system would likely require a separate scrubber, but more work needs to be done to establish whether existing scrubbers could also handle the CO2 extraction, said Mr Jenssen, who is based in Norway. The only difference would be the type of solvent used.
"On land, carbon emission cuts of 90% are possible, but for shipping, we will start with 70%, which is the IMO target reduction per vessel."
The CO2 captured will be stored on tanks and be deposited at port reception facilities, which are mostly in Northern Europe, where the CO2 is pumped into used oil fields.
"As there is not only one single solution to shipping's environmental impact, the sector must innovate broadly across multiple areas," Mr Jenssen said.
Every year, about 1bn tonnes of CO2 is produced from ships, which represents 2%-3% of global emissions.
Recycling captured gases
Swiss-based start-up Daphne Technology is also looking to target CO2 from all fuels over the next few years.
While several pilot projects are underway, its universal green converter aims to eliminate up to 99% of SOx and particulate matter, and up to 85% of NOx from ship exhausts. It is also expected to cut methane slip from ships by about 80%, using liquefied natural gas dual-fuelled engines, and will be able to convert ammonia slip from future ammonia fuel, according to the company.
The CO2 conversion from all fuels could be ready by 2025.
"We started by developing a solution for SOx, NOx and PM (Black Carbon) emissions, as these were the primary pollutants released by the maritime industry under regulatory focus," the company's founder and chief executive Mario Michan said.
"As new regulations and new fuels have been introduced, we saw the need to further develop our system. We discovered we could use the same patented technology to remove all toxic and greenhouse gas pollutants."
The technology involves high-energy electrons that break down the molecules in the funnel, so what is released can be captured and stored and re-used for fertiliser.
The company, which is funded by Saudi Aramco Energy Ventures, part of Saudi Arabia's national oil company, and a grant from the European Union, is aiming to install the world's first dry exhaust gas cleaning system with a circular economy at the end of 2021.
A circular economy is an economic system aimed at eliminating waste and which has a continual use of resources.
While alternative fuels with zero carbon emissions are developed to meet IMO decarbonisation goals, carbon capture, storage, and potential recycling into useable products may be the golden answer for shipping.