——Grand opening ceremony of ContiOcean(NanTong)factory held successfully
On May 31, 2021, the opening ceremony of ContiOcean(NanTong)factory and the starting-up ceremony of EGCS construction(CO21067-68)with the theme of "Blue Dream, Blue Ocean" was held in Shizhuang Town Industrial Zone of Rugao City,Province Jiangsu, China. Jacky Zhou, Mingzhu Zhao and Jerry Chen, directors of ContiOcean Group, Chen Fei, Secretary of the Party committee of Shizhuang Town; Xie Qing, Chairman of Shanghai Lanpec Petrochemical Equipment Co., Ltd.; Ma Bingwen, general manager of heavy industry of Beijing ABB Electric Drive System Co., Ltd.; Xue Maogen, President of LR(China); Chen Biao, Vice president of BV(China), More than 200 government leaders, partners, suppliers and guests from all over the country attended the ceremony.

Guests and friends celebrate the completion of Nantong factory
At the opening ceremony, Jacky Zhou, Chairman of ContiOcean, addressed the guests. He said that after more than a year of efforts, a new factory with modern production equipment, perfect functions, advanced technology and beautiful environment was successfully completed. The total investment of Nantong factory is about U$20 million, covering an area of more than 26000Sq.m and aconstruction area of about 15000 Sq.m. Nantong plant can produce 50 sets of EGCS, 200 sets of control cabins, as well as N2 generator, double wall pipes, alkali filling units. The annual sales volume can reach U$30 million and the annual tax contribution can exceed U$1.5 million upon the full production. The establishment of Nantong factory has laid a solid material foundation for ContiOcean Group in scientific research, technological innovation, technological progress and talent reserve. This indicates that the development of ContiOcean Group hasstepped onto a new stage and opened a new chapter of marine
environmental protection of ContiOcean Group.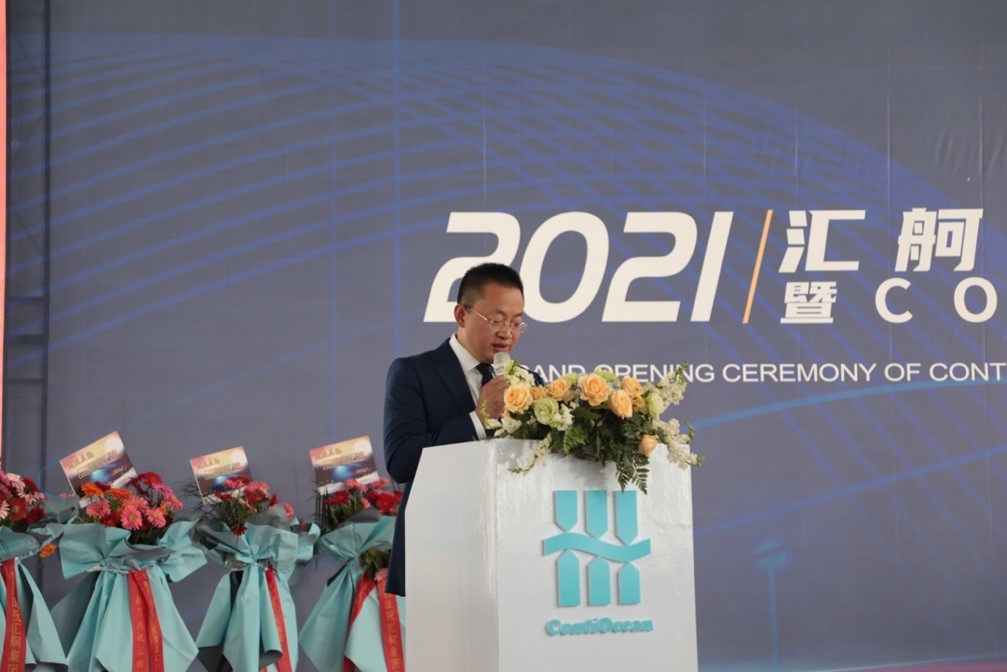 Speech by JackyZhou.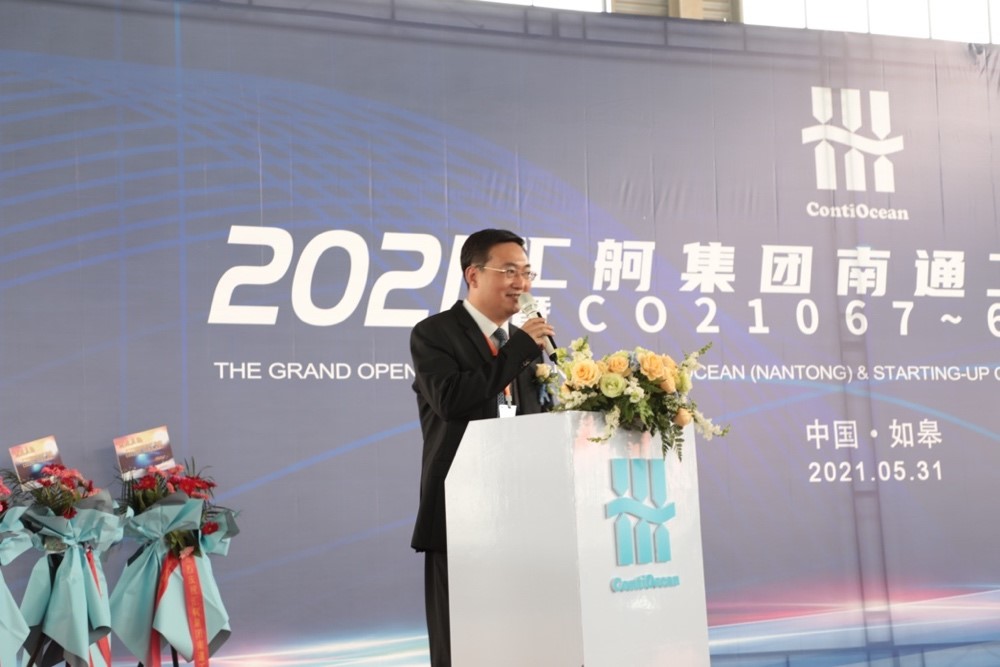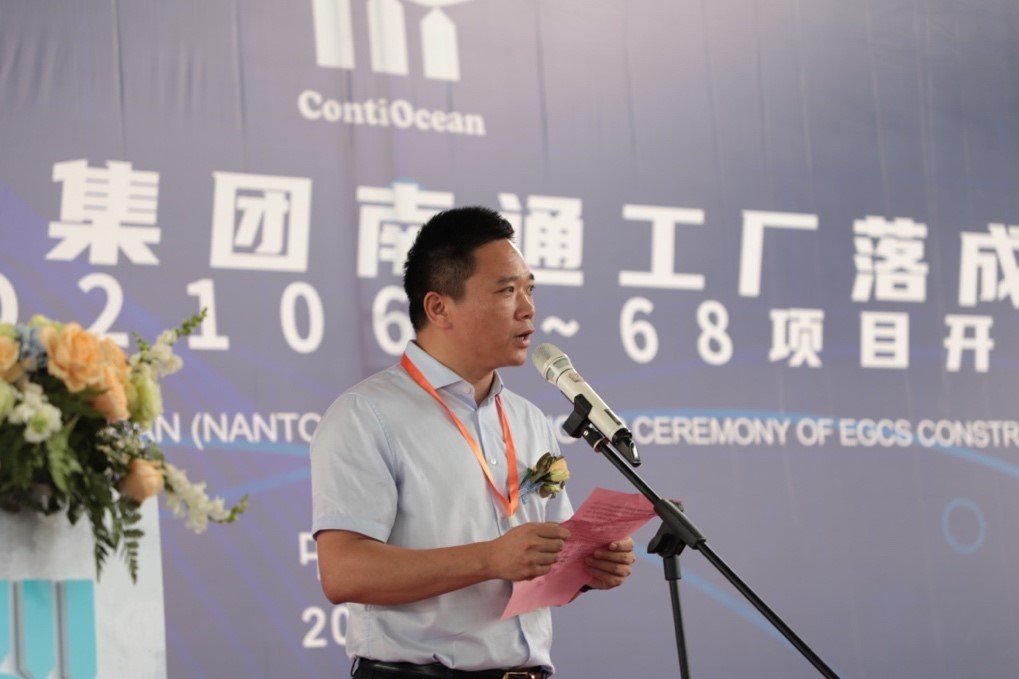 Speech by Xie Qing, chairman of Lanpec.(left)
Speech by Chen Fei, Secretary of the Party committee of Shizhuang Town.(right)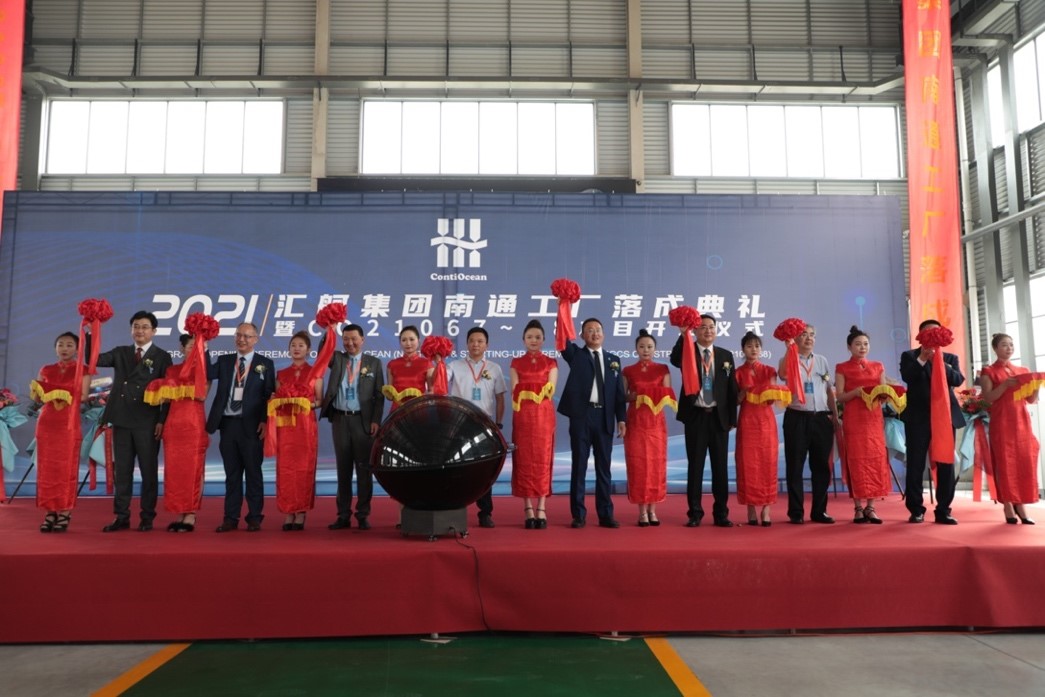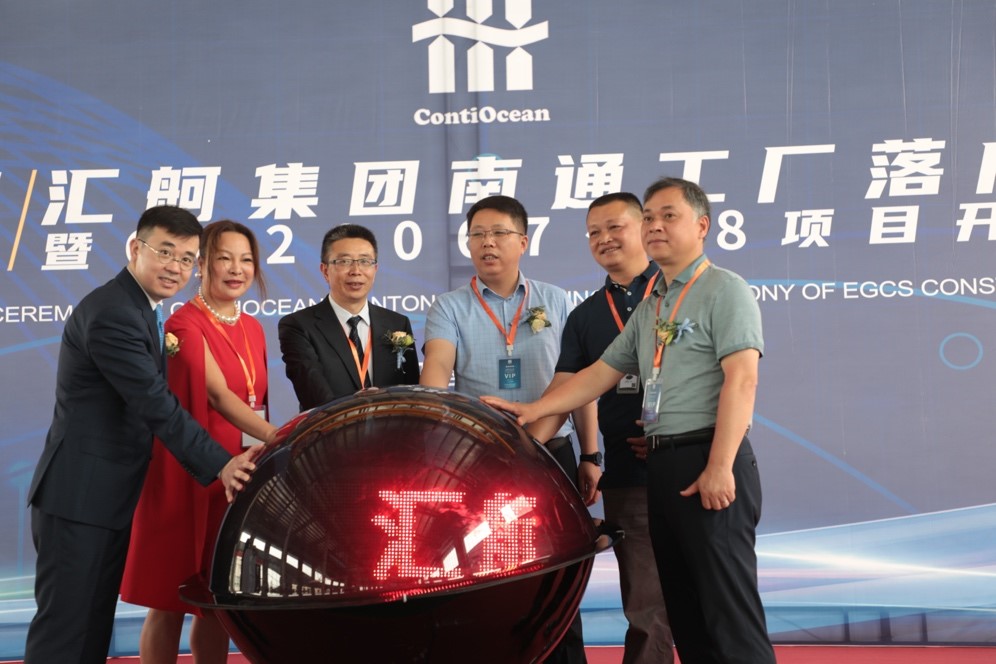 Ribbon cutting atthe opening ceremony.(left)
Starting-up ceremony of EGCS construction(CO21067-68).(right)
On the same day, ContiOcean Group also held a new product launchand thank you reception. Jerry Chen, Technical director of ContiOcean Group, ceremoniously launched a series of new products - "tower, gas, wisdom and service". In terms of marine environmental protection (EGCS), ContiOcean launched mk-iii desulfurization tower. Compared with mk-ii, the weight is reduced by10%, the purification efficiency is increased by 5%, and the system energy consumption is reduced; In terms of clean energy (LNG), ContiOcean has launched FGSS, LNG cryogenic valve, double wall pipes, N2 generator and BOG re-liquefied device-LigBOG for LNG fuel application; In terms of intelligent manufacturing(SMART), ContiOcean has launched Abzoom, a continuous cloud monitoring scheme for EGCS, Cyberion, a marine network security solution, and Alfaback, acustomized solution for ship and offshore platform livingquarters; In terms of engineering services (Services), ContiOcean has launched Contilashing, container lashings, and Conti mariene service, a maritime engineering service. Mr. Chen said that ContiOcean will continue to focus on innovation, lead technology and provide quality productsand services for ContiOcean and Conti's friends in the future.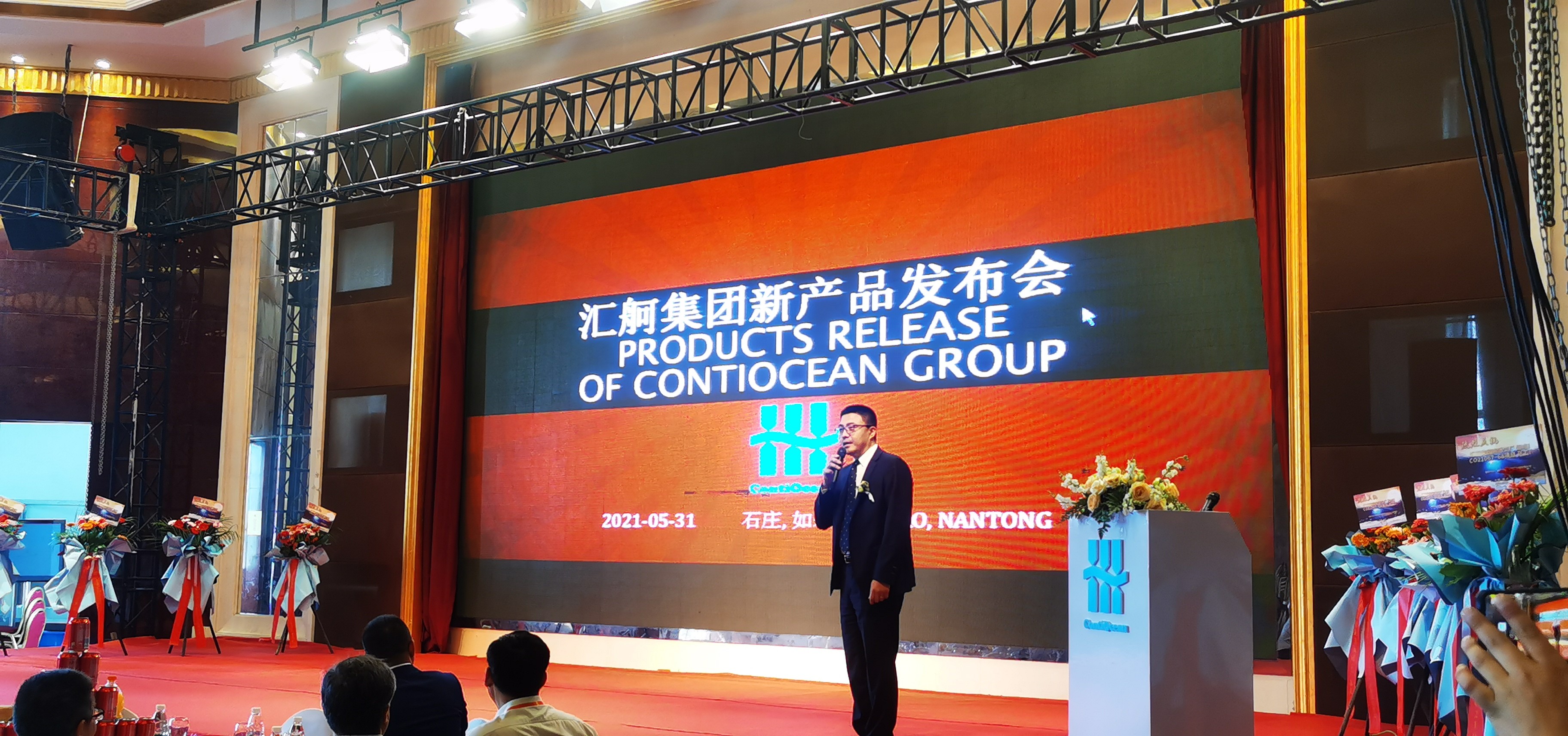 Mingzhu Zhao, Director and General manager of ContiOcean group, said at the thank-you reception that in the past four years, ContiOcean and Conti's friends have fought side by side and sailed against the current to overcome the seemingly impossible difficulties and complete the seemingly impossible tasks. Behind the achievements is the trust of all new and old customers, the support of partners and the efforts of allemployees. The completion of a new factory, the start of a new project and the release of new products mark ContiOcean's entering a new stage. ContiOcean group will continue to work closely with all Conti's friends in the future, support each other and work hard for the blue ocean and blue dream!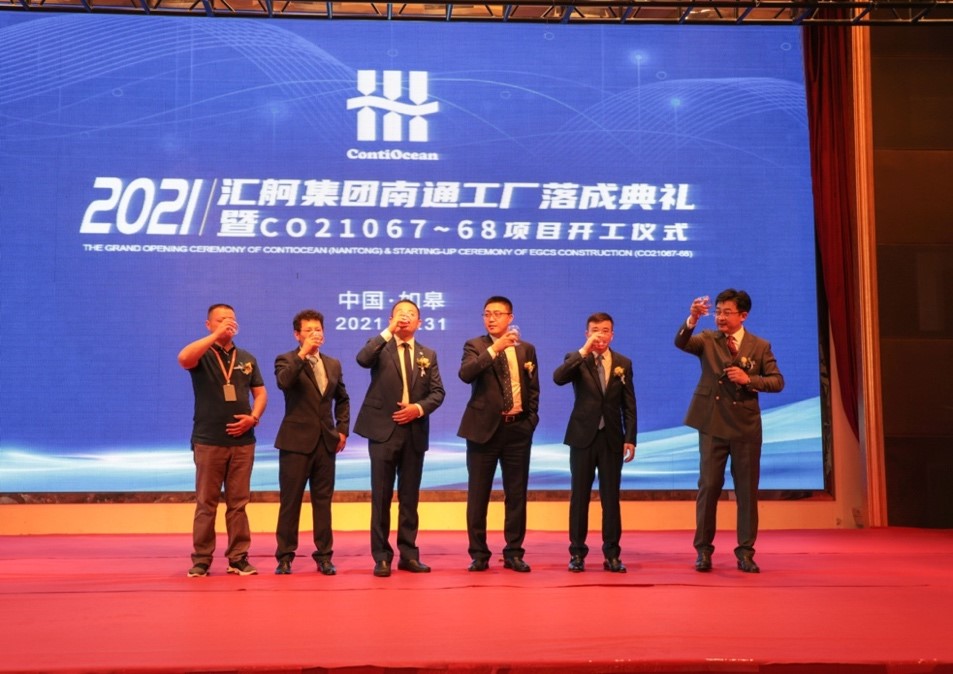 the Partner Award Ceremony.(left)
ContiOcean group's senior management team celebrate at the thank you receptionleft.(right)
Welcome to contact us:
E-mail:sales@contiocean.com.cn
technical@contiocean.com.cn
Tel:(+86) 021 5031 5500
Web:www.contiocean.com.cn
China Office:
C2-1001 & 02, SITC, Xin Jin Qiao Rd 1599, Pudong, Shanghai, China,201206
Singapore Office:
10 Anson Road,19-01 InternationalPlaza, Singapore,
079903