In the morning of November 29th 2019, Zhang Jianhua, the Secretary of Rugao municipal Party committee, visited the construction base of ContiOcean Group Nantong Factory and conducted on-site investigation, accompanied by Xue Yu, Secretary of the Party committee of Shizhuang Town, and Chen Fei, mayor of the town. Mr. Zhao Mingzhu, the director of ContiOcean Group and general manager of ContiOcean Shanghai, warmly welcomed Secretary Zhang and his team.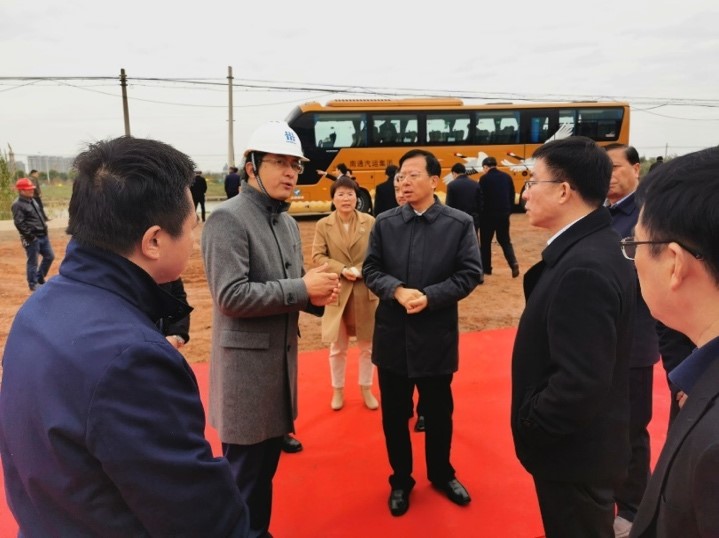 General manager Zhao Mingzhu made a detailed introduction to Secretary Zhang on the Nantong construction project of ContiOcean Group. ContiOcean Nantong factory is a wholly-owned subsidiary company of ContiOcean Group and ContiOcean Environment Tech Co., Ltd (Shanghai), and is the first phase of the environmental science and technology protection project of ContiOcean Group in Nantong. The project covers an area of 23.5 mu, with a construction area of 10000 square meters; the coastline is 136 meters long, and two 500-ton inland river berths are constructed. The total investment of phase I project is 120 million yuan, and the annual sales after the completion of the project is expected to reach 120 million yuan. The annual sales will exceed 200 million yuan at its full production capacity, and the annual tax payment will be no less than 10 million yuan. Nantong Factory will be the production and manufacturing base of ContiOcean Group, engaged in the production, general assembly and logistics storage of desulfurization products, cruise ship accessories, conventional marine equipment as well as clean energy equipment.
Secretary Zhang Jianhua had a very detailed understanding on the construction and development status of ContiOcean Group Nantong Factory and gave his high affirmation on the research and production technology and market application prospect of flue gas treatment, as well as ContiOcean Group's corporate culture construction and social responsibility. Secretary Zhang also pointed out that it was really impressive that ContiOcean Group could make such outstanding achievement in marine environment protection and social responsibility practice in just two years, and it further proved that ContiOcean Group was young and brave to create and take responsibilities. Secretary Zhang also mentioned his expectations and requirement for ContiOcean Group Nantong Factory, hoping that ContiOcean Group could seize opportunities and make further efforts and progress in the future.